It's not just WHAT we do,
It's HOW we do it!
There are many others that offer Sales, Marketing, and Business solutions. But, our creativity, tenacity, and no-BS direct talk sets us apart. Plus, we bring entrepreneurial thinking, corporate culture understanding, brand knowledge, real-world logic, a track record of success. And then there is 'The PDCA Process'….
Create a strong plan
per needs.
Implement processes that deliver consistency.
Analyze performance and measure results.
Adjust actions as needed to stay on plan.
Our approach is inspired by the performance improvement theories of W. Edwards Deming, whose "PDCA cycle" influences Japanese and American quality practices. We apply Deming practices to Business Management, Sales, Marketing, and Partnerships.
Strategy and Tactics 

|

 Process | Partnerships | Return on Investment 
for Sales | Marketing and Business Operations.

To improve
business results.
To strengthen sales and marketing success.
To add value to brand and business.
To build your
bottom line.
Alliance of Professionals
PDCA Inc. is more than just the efforts of Leo Parente. It is a working alliance of professionals and professional resources in areas of expertise that are relevant and diverse.
ADVERTISING / MEDIA • BRANDING • ENTREPRENEURSHIP
EVENT MARKETING • EXECUTIVE SEARCH • INVESTMENT FINANCING
PROCESS MANAGEMENT • RESEARCH • SALES PROMOTION
On any project, consistent with need, budget, and logistics, PDCA assembles its team. Similar to the 'Movie Production' concept – we bring together the right talent for the project… except the costs are under control and our 'superstars' are way more affordable!
INDUSTRY DIVERSITY
• ADVERTISING
• APPAREL
• AUTOMOTIVE
• B2B GOODS / SERVICES
• BEVERAGE
• CONSUMER GOODS / SERVICES
• INDUSTRIALS
• INTERNET
• MARCOM SERVICES
• EXECUTIVE SEARCH
• FINANCIAL SERVICES
• FOODS
• PHARMACEUTICALS
• PUBLISHING
• REAL ESTATE
• RETAILING
• SPORTS
• TECHNOLOGY
AUTOMOTIVE SPECIALTY
• ADVERTISING
• BRAND MANAGEMENT
• DEALERSHIP MANAGEMENT
• LOYALTY MANAGEMENT
• MARKETING
• MOTORSPORT MARKETING
• PR COMMUNICATIONS
• PRODUCT DISTRIBUTION
• PRODUCT LAUNCHES
• SALES MANAGEMENT
• SALES TRAINING
• STRATEGIC PLANNING
Business Growth Consulting
Strategy / Tactics Planning
Process Coaching
Cost-Saving / Profitability Plans
Concept Incubation
Sales / Marketing Consulting
Strategy Ideation
Tactics Creation
Brand Mgt.
Project / Process Mgt.
Partnership
Search
Partner Searches
Partnering Strategies
Partner Assessments
Partnership Coaching
Investment
Search
2 to 5 Year ROI Payout
Quality Opportunities
Character / Capacity
Relevance to the Future
• CONSTANCY OF PURPOSE
• CONSTANT IMPROVEMENT
• CREATE A LEARNING ORGANIZATION
• TRAINING AND SELF-IMPROVEMENT
• FOSTER TEAMWORK
• LEADERSHIP = TEAM COACHING
• DRIVE OUT FEAR
• NO SLOGANS
• NO QUOTAS
• NO MASS INSPECTIONS
• NO AWARDING ONLY ON PRICE
• PRIDE = WORKMANSHIP
• TAKE ACTION
• EMBRACE THIS NEW PHILOSOPHY
• THINK LONG-TERM
• PROCESS = RESULTS
• FIRST GET QUALITY RIGHT
• DEVELOP PEOPLE
• CREATE CONSENSUS
• GROW LEADERS
• RESPECT PARTNERS
• KANBAN ['Pull' Systems]
• HEIJIMA [Even Workloads]
• STANDARDIZE TASKS
• FACTS VS DATA
• USE TESTED METHODS
• GO SEE FOR YOURSELF
• HANSEI [Reflect], KAISEN [Improve]

'WHAT' Study
What conditions exist.  Situation analysis, Needs definition.
'5 WHY' Study
Why conditions exist.  Facts, Information, Insight analysis.
'7S' Study
Strategy, Structure, Skills, Staff, Shared Values, Systems, Style.
Outside Study
External market factors. Lifestyle relevance.
Initial Findings
Issues, Opportunities, Priorities identification.
Recommendations
Plans, Tactics, and Rationale.
Consensus Meeting
Buy into the plan. Realize shared purpose.
Training Sessions
Institute required knowledge.
Leadership Sessions
Build Vision and Teamwork. Drive out fear.
Action
Implement the plan.
Adjustment
Performance inspections. Check the work.
Improvement
Refinements. Updates. Continuous review.
PDCA REPORT
A 1-page document that communicates PDCA thinking / solutions.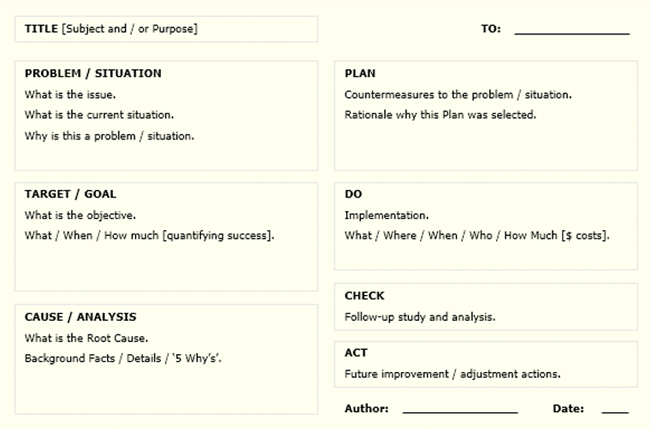 You have needs / objectives / challenges.
We have a solutions / results process.
PDCA Inc. has helped others, why not you?